A couple of weeks ago I was invited to an event showcasing the Marks and Spencer summer range with the chance to meet Jane Devonshire, the winner of Masterchef in 2016. Jane is releasing a new gluten-free cookbook 'Hassle Free Gluten Free' in September this year, so it was great to talk to her about her inspiration! Her son has coeliac disease, and having attended events for Coeliac UK, she found herself cooking gluten free at home. She was aware of the low FODMAP diet, having attended similar events in the past, so we discussed the positive effect the diet has had on those of us suffering with IBS. Having followed a gluten free diet for a couple of years now, I can't wait to see her recipes!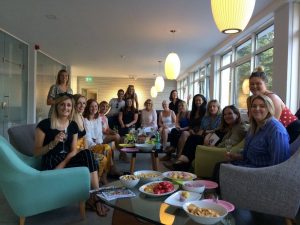 The event was held at the White Building in Southampton, in collaboration with Southampton Bloggers (below) and Grayling South.
On arrival to the event, prosecco in hand, we were served an array of delicious M&S treats! I obviously headed straight for the cheeseboard, featuring some tasty Blacksticks Blue, Camembert and even Seaweed Cheddar! Grayling South kindly identified all of the gluten/nut/onion/garlic free items so I could try lots of the products. My favourite were the Stuffed Cherry Peppers with Goat's Cheese. Although a little high in lactose these were absolutely delicious! I also loved the mini meringues and new popcorn flavours (yes, that does say Eton Mess Popcorn!)…
One of the reasons for the event was to introduce Jane's burger created in collaboration with M&S, as part of the launch of their Best-Ever Burgers (which are not only gluten free, but they don't contain any FODMAPs!)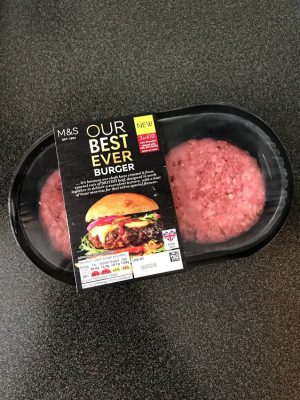 Jane created a 'Best Ever Surf & Turf Rosti Burger' combining the best ingredients from where Jane lives in leafy Hampshire. Seafood from local waters, watercress from nearby Alresford and Hampshire new potatoes, topped with an egg for a brunch-style burger. I collected all of the ingredients from my local Hedge End store (kindly arranged by Grayling South), and cooked up a feast for my family…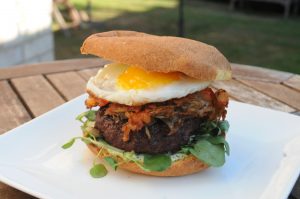 The burgers were absolutely delicious, my whole family loved them. The combination of the salty prawns, with the peppery watercress mayo was divine, and the M&S burgers themselves were incredible. So meaty and exactly how a burger should be – just meat, nothing else! The rosti added a real crunch, while the runny yolk added an extra depth of flavour. A truly fantastic burger. We had ours with some homemade potato wedges and fresh salad courtesy of my Grandma (lettuce and cucumber from her garden!)
For dessert, I made a Cardamom Chocolate Mousse with Fresh Cherry Compote, using the Marks and Spencer recipe (also featured below). With such a diversity of berries available, it's exciting to celebrate provenance – there is no better location where berries thrive other than in the South, so as I live in the South I decided to give this mousse a try! To make this mousse suitable for the low FODMAP diet, I personally only had a few cherries, you could easily substitute the berries for blackberries, raspberries, strawberries or blueberries, as they all go well with chocolate!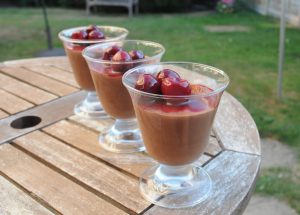 These mousses are really easy to make and so indulgent. The rich chocolate flavour really compliments the sweetness of the cherries. They are also dairy free (if you use dairy free butter and the M&S dark chocolate). These were an ideal light summer dessert to follow the hearty burger.
Thank you to Grayling South, Marks & Spencer, Southampton Bloggers and the lovely Jane Devonshire for holding this event, and for sharing these delicious recipes. All of the products featured are available to buy in Marks & Spencer. Let me know if you give them a try. Also, make sure you follow my Instagram, as I'll be sharing my family's reviews there too!
Alice x